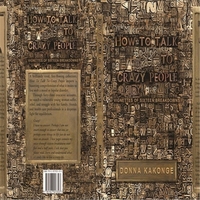 How To Talk To Crazy People: Amazon Review
Brilliantly written with such clarity that I immerse myself in the emotional roller coaster ride with Donna.
Honest and open, heart-wrenching at times. When Donna finds that there is no money in her account, she is left feeling helpless and powerless but did not let that defeat her. She struggles over every hurdle and is not defeated.
Leaves my heartbeat thumping, and anxious to know where the next page would take me.
A bittersweet account of what it is like to live with 'craziness' in a world of 'normal' people.
This rare booking helps us to understand the daily internal struggles of living with depression and how the healthcare community, here and in Africa approaches and treats it. (Her aunt locking the door?.(The use of Haladol, in Africa) even with the knowledge that only second-hand and third-hand medicines are sent from America and Europe to Africa?)