TOMORROW

IS THE TRANSFORMATION AWARDS
A Celebration Like No Other!
The prestigious Transformation Awards gala is set to be on
Friday, June 16th 2017
, at Royal York Hotel. Presented by the Transformation Institute For Leadership & Innovation, Silvertrust Media and Diversity Magazine, it inspires present and future generations. Extraordinary Canadians on the Canada 150 Leadership and Innovation list will also be recognized to commemorate Canada's 150th anniversary. The 150 high achievers will be featured in a world-class coffee table book and a multimedia presentation as a part of Envision Canada.
DISTINGUISHED 2017 RECIPIENTS
The 2017 Transformation Award recipients are: Leadership Award, Dr. Ajay Virmani, CEO of Cargojet; Lifetime Achievement, General Roméo Dallaire, Humanitarian & Retired Senator; Entertainment Award, Cameron Bailey, Artistic Director, Toronto International Film Festival; Professional Excellence, Raj Kothari, Managing Partner, PwC; Development Award, Heather Yang, President, Anderson College.
The Public Service Award goes to Chief Eric Jolliffe, York Regional Police; Enterprise Award, Isaac Olowolafe Jr., CEO, Dream Maker Corporation; Harmony Award, Anita Bromberg, Race Relations & Human Rights Specialist; Innovation Award, Latiq Qureshi, CEO, QLogitek; Community Service, Debbie Douglas, Executive Director, Ontario Council of Agencies Serving Immigrants; Media Award, Don Barraclough, President, NationTalk and Heritage Award, Isabel Cuellar, Executive Director, Canadian Latin Heritage Association.
ABOUT THE TRANSFORMATION INSTITUTE AND PARTNERS
The awards are presented by the Transformation Institute for Leadership and Innovation as well as Silvertrust Media, which publishes Diversity Magazine. 20,000 copies of Diversity are distributed via blue street boxes, transit stations, shopping centres, GM Dealerships and others in the Greater Toronto Area and beyond. The Transformation Institute also runs the Crossover Mentorship program for youth. The mission is to equip Crossover Ambassadors with tools that change lives for good.
ENVISION AND THE CANADA 150 LEADERSHIP AND INNOVATION LIST 
Recipients of the 2017 Transformation Awards are being automatically included on the Canada 150 Leadership and Innovation list. The list includes Indigenous success stories, other extraordinary Canadians and immigrants, to commemorate Canada's 150th anniversary. They will be highlighted in television biography specials, a documentary film and interstitials as a part of the Envision Canada television initiative, developed for broadcast on Canadian and other stations. A world-class coffee table book is also being developed and will profile the 150 leaders and innovators.
SPONSORS
This year's sponsors are: RBC Insurance, Ryerson University, Jodal Health Care, TD Canada Trust, Diversity Magazine, OMNI Television, Skylink Group, KII Naturals, Afroglobal Television and Silvertrust Media
GALA HIGHLIGHTS
Date
:
Friday, June 16th, 2017
Awards
: Reception
6:00 PM
, Dinner & Awards
7.00 PM
Venue: Grand Ballroom, Fairmont Royal York Hotel
Address: 100 Front Street West, Toronto, Canada
Tickets: $200 each or $2000 for each corporate table of 10
Info: DiversityMagazine.ca, TransformationInstitute.ca
Contacts: Debra Noreiga or Simi Ikotun
THE DISTINGUISHED RECIPIENTS
LEADERSHIP AWARD
Dr. Ajay Virmani
President & CEO, Cargojet Corporation
Dr. Ajay Virmani is the President & CEO of Cargojet, Canada's largest cargo airline. He came to Canada from India in 1975 and rose from cleaning windows to buying the company that employed him. A logistics and transportation industry leader with hundreds of millions of dollars in revenue, he was named
Ernst & Young Entrepreneur of the Year. Deloitte has recognized Cargojet as one of Canada's 50 Best Managed Companies. It won Cargo Airline of the Year by Shippers Choice for thirteen consecutive years. It is the only Canadian cargo carrier full member of the International Air Transport Association and an ISO9001: 2008 Quality Certified company. Cargojet provides time-sensitive overnight services, carrying over 1,000,000 pounds across North America, utilizing a fleet of Boeing all-cargo aircraft.
In 2004, Dr. Virmani launched Starjet Canada, a luxurious VIP airline for corporate clients, professional sports teams and others.
In June 2005, he launched an IPO with units trading on the Toronto Stock Exchange. He received honourary doctorate from Assumption University in Windsor. He holds MBA from the University of New York, and was the torchbearer for the 2010 Olympic Games. Dr. Virmani's second love is film.
His company Firsttake Entertainment Ltd., produced Dr. Cabbie and Breakaway, two of the highest grossing films in Canada. He produced Bollywood/Hollywood and Deepa Mehta's Oscar nominated film Water, as well as Khiladi.
Dr. Virmani
is also a national and international philanthropist. He receives the 2017 Leadership Award from the Transformation Institute for Leadership & Innovation.
LIFETIME ACHIEVEMENT AWARD
Lieutenant General, Hon. Roméo A. Dallaire
O.C., C.M.M., G.O.Q, M.S.C., C.D., (Rtd.)
Roméo Dallaire is a retired Lieutenant-General, former Senator, and is celebrated as a humanitarian worldwide. He ended his distinguished career in the Canadian military at the rank of Lieutenant-General and position of Assistant Deputy Minister of Human Resources-Military. His passion for child rights and protection led him to establish The Roméo Dallaire Child Soldiers Initiative, a global partnership with the mission to end the recruitment and use of child soldiers. This mission was inspired by his experience as the UN Force Commander leading the peacekeeping mission in Rwanda (UNAMIR). His account of the genocide became the subject of the book Shake Hands with the Devil: The Failure of Humanity in Rwanda, which was awarded the Canadian Governor General's Literary Award for Non-Fiction in 2004.
Since he le5 his appointment as a Canadian Senator in 2014, LGen Dallaire works as an author, and public speaker while continuing his research on conflict resolution and prevention, and the protectionon of child rights globally. In his most recent book, waiting for First Light: My Ongoing Battle with PTSD, LGen Dallaire details his personal struggle with the condition, and his leadership as a mental health advocate who continuously o8ers support to other Canadian veterans who are also coping with traumatic injuries. He spends much of his time working with the Dallaire Initiative on innovative ways to assist militaries worldwide to understand the unique dynamics of the use of child soldiers. He receives the 2017 Lifetime Achievement Award from the Transformation Institute for Leadership and Innovation.
ENTERTAINMENT AWARD
Cameron Bailey, Artistic Director
Toronto International Film Festival
Cameron Bailey is the Artistic Director of the Toronto International Film Festival. He is responsible for the execution of festival programming, as well as the maintaining of relationships with the Canadian and international film industries. Toronto Life has named him one of Toronto's 50 Most Influential People four years in a row. Born in London, Bailey grew up in England and Barbados, before migrating to Canada. Prior to taking up his current position at TIFF, Bailey was a festival programmer for eleven years, and a writer as well as broadcaster dedicated to the art and business of film. He reviewed films for Toronto's NOW Magazine, CBC Radio One and CTV's Canada AM.
Bailey presented international cinema nightly on Showcase Television's national program; The Showcase Revue, and has been published in The Globe and Mail, The Village Voice, CineAction!, and Screen. He has curated film series for Cinematheque Ontario, the National Gallery of Canada, the National Film Board of Canada, and Australia's Sydney International Film Festival. Bailey currently sits on the Advisory Council for Western University's School for Arts and Humanities and for Haiti's Cine Institute film school. He is also a board member of Tourism Toronto, and he currently teaches a course in programming and curation at the University of Toronto. He receives the 2017 Entertainment Award from the Transformation Institute for Leadership and Innovation.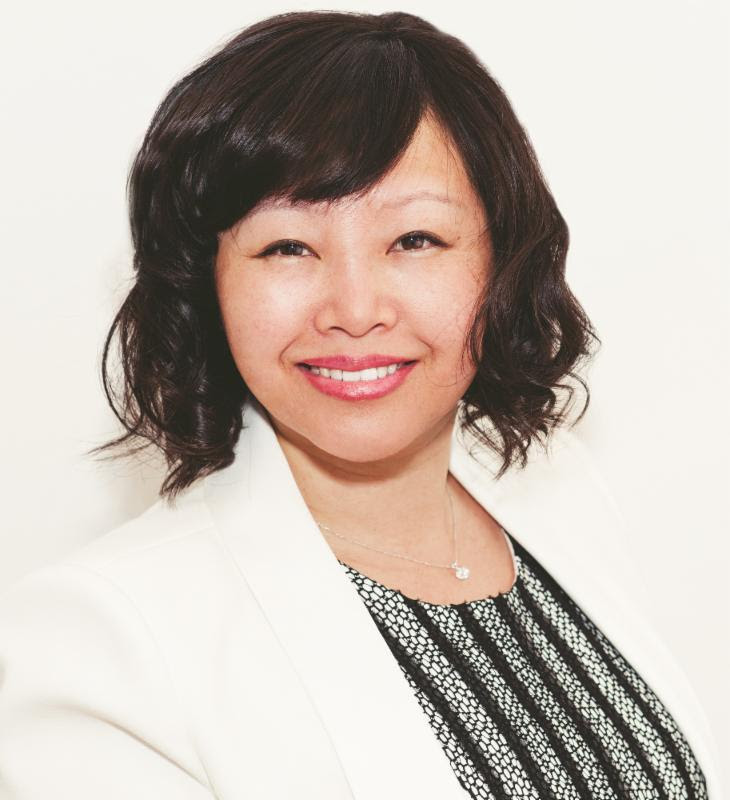 Heather Yang
President & CEO, Anderson College
Heather Yang is the President & CEO of Anderson College. She is also the President of Academy of Learning, located at Bay & Bloor streets in Toronto, Canada. Growing up in a family of educators, Heather always believed in the power of learning. Since the age of 10, she has witnessed and embraced entrepreneurship from her grandmother, who ran a tiny business in front of a city cinema. After arriving in Canada from China in 1999, she earned her MBA from Rotman School of Management at the University of Toronto. Heather believes that every educational institution must serve as a community where everyone inspires and gets inspired in turn.
In 2005, Heather combined her passion for education with the spirit of entrepreneurship and purchased a struggling college with only 3 students. She has since expanded to three campuses and served over 8000 students in the past 12 years. Her biggest inspiration comes from the students who change their own lives and touch their families, communities, nations and help make the world a better place. Her gratitude goes to the staff and faculty who train the students, not only for job skills, but for life skills as well. She stands on Dr. Martin Luther King, Jr.'s quote, which says, "Intelligence plus character; that is the goal of true education." She receives the 2017 Development Award from the Transformation Institute For Leadership and Innovation.
PROFESSIONAL EXCELLENCE
Raj Kothari, FCPA, FCA, MBA
Managing Partner, PricewaterhouseCoopers LLP
Raj Kothari is the Managing Partner for Greater Toronto at PricewaterhouseCoopers LLP and Vice Chair of PwC Canada. He is also a member of PwC Canada's Extended Leadership Team. Raj served as the Global Asset Management Assurance Leader as well as the National Asset and Wealth Management Leader. He is a former Board Member of PwC's Global Service Delivery Centre in India. He graduated from the Advanced Management Program (AMP) at Harvard Business School and obtained an MBA from CASS, (the City University Business School), London, England. He also qualified as a chartered accountant from the UK and from Canada.
Raj is very active in community advancement and has served as President of the Indo Canada Chamber of Commerce. He currently serves on the Board of Governors of the Toronto General Western Hospital Foundation and the Toronto Region Board of Trade.  He is also a member of the International Advisory Council of the Dean of the Schulich School of Business and a member of the Ontario College of Art & Design (OCAD) President's Advisory Council. He has received many awards, including the Queen Elizabeth II Diamond Jubilee medal. He receives the 2017 Transformation Award for Professional Excellence from the Transformation Institute For Leadership and Innovation.
PUBLIC SERVICE AWARD
CHIEF ERIC JOLLIFFE, O.O.M., BA, MA, CMM III
York Regional Police
Born and raised in York Region, Chief Eric Jolliffe began his career with the City of Edmonton Police Service in 1979. In 1981, he returned to York Region and joined York Regional Police. Over his 38 year career, Chief Jolliffe has served in a variety of functions. On December 13, 2010, he was appointed to Chief of Police for the department. The Chief is active in the community and under his leadership, York Regional Police has supported many community endeavours. One of the most important functions under his leadership is the International Day For the Elimination Of Racial Discrimination, which promotes harmony and diversity, while commemorating the 1960 Sharpville Massacre in South Africa.
Chief Jolliffe holds a Bachelor of Arts (Honours) degree from York University.  He is a graduate of the FBI National Academy, University of Toronto's Joseph L. Rotman School of Management Police Leadership Program, and the Police Executive Research Forum Senior Management Institute. Chief Jolliffe also holds the designation of Certified Municipal Manager III with a Police Executive designation. In May of 2012 Chief Jolliffe received his Masters of Arts Degree in Leadership from Royal Roads University. He was presented with the Officer of the Order of Merit of the Police in 2015. He receives the 2017 Public Service Award from the Transformation Institute for Leadership and Innovation.
ISAAC OLOWOLAFE, JR.
President & CEO, Dream Maker Corporation
Isaac Olowolafe, Jr., is the President & CEO of Dream Maker Corporation. A Broker of Record at the company's real estate division, which his father, Isaac Olowolafe, Sr. founded, he established the present vertical integration, which includes Brokerage, Wealth Management, Property Management, Education, Development and Private Equity. Within the integration, Dream Maker Realty delivers buying and selling real estate; wealth creation for individuals, and wealth creation for institutions. Isaac has led over one billion dollars in real estate transactions over the years. Dream Residences at Yorkdale, his real estate development project is a $40 million project that has been completed. He has eight similar projects across the GTA, including a hotel in Brampton.
Top developers and brokerages such as Tridel, Milborne, Baker, Cresford, Phantom and Plaza Corporation have recognized Isaac. In 2010 he established the Dream Maker Realty and Olowolafe Scholarship at the University of Toronto. He received the Harry Jerome Business Award in 2011 and the Planet Africa Enterprise Award in 2012. In 2015, the Isaac Jr. Olowolafe Digital Media Centre was named after him, following a donation to Ryerson University. In 2016, he launched Dream Maker Ventures (DMV), a private equity firm to support businesses in all industries. Companies DMV has invested in include Hubba, SmoothPay, Client Desk, Right Blue Labs, AdHawk Microsystems and Windular. Isaac receives the 2017 Enterprise Award from the Transformation Institute For Leadership & Innovation.
HARMONY AWARD
ANITA BROMBERG, Executive Director
Canadian Race Relations Foundation
Anita Bromberg is the Executive Director of the Canadian Race Relations Foundation (CRRF), a Crown agency that has become the leading organization dedicated to eliminating racism and maintaining harmonious relations across diverse communities. A $12 million contribution by the National Association of Japanese Canadians, matched equally by the Government of Canada, created a $24 million endowment fund, which enabled establishment of the CRFF. Born and raised in Winnipeg, Anita is a lawyer who was admitted to the Ontario Bar in 1982. She is a spokesperson, lecturer, trainer and media representative on topical issues, particularly regarding racialized communities. A court expert on racism and extremism, she has also instituted and participated in intercultural outreach and educational initiatives.
Formerly, Anita was the National Director of Legal Affairs for B'nai Brith Canada and Human Rights Coordinator for the League of Human Rights, where she coordinated advocacy efforts and was responsible for the operation of the organization's Anti-Hate Hotline as well as its annual report on racism. Anita is a member of the Cabinet of Canadians, an assembly of leading Canadians from industry, politics, religion, academia, and culture. A recipient of the Queen Elizabeth II Diamond Jubilee Medal, Anita brings to her role as Executive Director at the CRRF, three decades of experience working on issues of racism and discrimination, as well as human rights, countering hate and intergroup relations. She receives the 2017 Harmony Award from the Transformation Institute For Leadership & Innovation.
INNOVATION AWARD
LATIQ QURESHI
President & CEO, QLogitek
Latiq Qureshi completed his post-secondary education in 1966 at Oxford University and at the University of Cambridge in the U.K. He went on to complete his education in Computer Software Sciences in 1969, specializing in computer programming, with the British Institute of Engineering Technology (B.I.E.T.), and the Queen Elizabeth College. He founded QLogitek, a company specialized in systems integration and professional services, with a staff of 200 business and technology professionals. In 2001, Microsoft Corporation recognized QLogitek as a thought leader and pioneer in delivering B2B cloud-based software as a service to a business community.
QLogitek was the sole recipient of Microsoft's prestigious global
DOT.NET
award. In Canada, QLogitek revolutionized the retail and consumer packaged goods industries by connecting major retailers and their global trading partners in a way that had never been done before. As an Executive and Board Member of SEB, Mr. Qureshi is involved in the strategic direction and growth of a public Canadian company (TSXV: SEB), with a current employee base of approximately 900 and with annual revenues of over $100 million dollars. Qureshi is recipient of the Queen Elizabeth II Golden Jubilee Medal for his commitment, perseverance and support for community leadership. He receives the 2017 Innovation Award from the Transformation Institute For Leadership And Innovation.
COMMUNITY SERVICE AWARD
DEBBIE DOUGLAS, , EXECUTIVE DIRECTOR
Ontario Council of Agencies Serving Immigrants
Debbie Douglas is the Executive Director of OCASI, the Ontario Council of Agencies Serving Immigrants. Through her work in the NGO sector and particularly at OCASI, Ms. Douglas has highlighted issues of equity and inclusion including race, gender and others within the immigration system, and has promoted the creation of safe, welcoming spaces within the settlement and integration sector. She worked for many years in frontline, management and executive positions with community-based service agencies. As a management consultant, Ms. Douglas has worked both with Non-Governmental Organzations and public institutions on organizational development and change. A well-known face in Ontario and across Canada, She is often called upon by governments to share her expertise.
Ms. Douglas was a member of the provinces' Expert Panel on Immigration, which published the report; Routes to Success, and led to the province's first immigration legislation (2015); a member of the Income Security Reform Working Group in Ontario; Immigration and Refugee Advisory Committee of Legal Aid, and the National Settlement Council. She was the co-founder of Zami, a political and support group for LGBTI people in the early 1980's. Douglas is the recipient of the Women of Distinction Award from YWCA Toronto; and the Urban Alliance on Race Relations Anti-Racism Award (2014), among others. She receives the 2017 Community Service Award from the Transformation Institute For Leadership & Innovation.
MEDIA AWARD
Don Barraclough
President & CEO, NationTalk Inc.
Don Barraclough, a proud member of the Peguis First Nation, is the Founder, President and Chief Executive Officer of NationTalk Inc., an Indigenous economic information network. A serial social entrepreneur, he leads a dynamic group of Indigenous professionals to support the NationTalk network, which delivers much needed opportunity listings to Indigenous leaders and communities. These include employment, tenders, networking and educational events. NationTalk distributes the highly coveted Morning Brief to over 20,000 Indigenous contacts from its site, which hosts over 170,000 pages, created in over 11 years. He has implemented many programs under at the NationTalk brand, including Community Alert, Emergency Response, Community Voices, Indigenous Business and Finance Today.
Don and his team produced the highly successful iHope Benefit Concert in November 2016, which brought attention to suicide prevention. It featured First Nations, Inuit and Metis women, including Buffy St. Marie, Susan Aglukark and Andrea Menard. He has contributed hundreds of thousands in time and resources to regional and national marketing campaigns. He is a skilled facilitator in bridging mainstream and Indigenous sectors together. Don is a founding member of Canadians for a New Partnership, which includes former National Chiefs, Prime Ministers and other respected leaders, both Indigenous and others, working together to advance reconciliation efforts across Canada. Don receives the 2017 Media Award from the Transformation Institute For Leadership and Innovation. 
Isabel Cuellar
, Executive Director
Canadian Latin Heritage Association
Isabel Cuellar is the Executive Director of the Canadian Latin Heritage Association (CLHA). Formerly a lawyer, she was born and raised in Colombia. She created the CLHA as a non-profit organization aimed at building bridges of opportunities, furthering inclusion and promoting Latin American culture in Canada. Today, Isabel runs
the largest Latin American festivalin Mississauga. The 3-day extravaganza features Latino contributions to the city's heritage. The Mississauga Latin Festival entertains an average of 25,000 visitors. The CLHA was officially incorporated in 2014, though Isabel has served the community in Mississauga for about 10 years now, promoting festivals, Christmas celebrations, fundraising functions to support numerous causes and much more.
Isabel has served as the Chair of the Latin America Pavilion at Carassauga, the Festival of Cultures. She has also served as Director of the Colombia en Mississauga Festival, which is designed to celebrate the Colombian independence anniversary. She facilitated fundraising efforts regarding the 1994 and 2017 floods in Colombia. She was a member of the Latin Committee for the 2015 PanAm Games. Patient and endearing, her goal is to infuse Canadian heritage with the infectious energy of Latin American culture, engaging everyone, including children, youth and seniors with food, fun, dance, art and more. Her goal is to ensure a legacy of a brighterfutureforgenerations to come. Isabel receives the 2017 Heritage Award from the Transformation Institute For Leadership & Innovation.

PHOTOS FROM PREVIOUS TRANSFORMATION AWARDS EVENTS 
Scott Haldane, President YMCA Canada receives the Lifetime Achievement Award
from Surjit Babra, Chariman, Skylink Group
(L-R) Guest, Dr. Steve Gupta, Innovation Award recipient and Pradeep Sood, Chairman, Highburry Canco
Justice Michael Tulloch, Recipient of the Public Service Award with Derek Luis, Former CEO, Canada National Screen Institute
TRACY MOORE, HOST OF CITY LINE WITH GUEST
GUESTS AT THE VIP RECEPTION