Restaurant makeover (originally published for Pride Newsmagazine)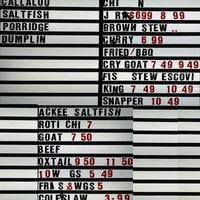 The show "Restaurant Makeover" helps restaurant owners to makeover their businesses. All you need to do is to send in a letter or a call and they decide whether they're going to take the project on. The show, which airs on the Food Network Tuesday, Wednesday, Saturday, and Sunday, matches the money that owners put into the renovations dollar-for-dollar.
Alison Ruthland is the owner of First Class Delites at 1156 Weston Rd. She wrote a letter to "Restaurant Makeover" highlighting her situation.
"We were away from the business for a little while because I had twins in November," Ruthland says. "One of the twins was born and she immediately went into heart failure. We spent a few months at Sick Kids and my husband was back and forth. So that took up a lot of our time. She was our priority at that moment."
Ruthland says that because the business got neglected, she took a look at "Restaurant Makeover" and found that it was a great show to fulfill her needs.
"I figured why don't I give them a call and see what they can do. We wrote in and they responded right away. It's been a very fast process."
The show that "Restaurant Makeover" is featuring First Class Delites heavily focuses on Ruthland's daughter. The Ruthlands have decided to open up another restaurant in name of their daughter called Sydney's Island Restaurant.
Shaam Makan is the producer of Tricon Films who does "Restaurant Makeover" for the Food Network.
"She [Ruthland] emailed me the story. I went down to visit and as soon as I met the family I knew this is a story I'm going to do," Makan said.
Ruthland worked with the designer, saying that they wanted a "totally fresh, new look."
"Apparently, one of the top designers in the city worked on the restaurant," Ruthland says. "I'm not sure what she's going to do. Apparently, it's tables, chairs, ceilings, floors; it's going to be the whole place. Because when we came to the whole place was demolished. The ceiling was going, the floor was ripped up, the counter, everything. It was a bit of a shock to see the place look like that, but we're really excited because we know the place is going to look completely different."
They're shooting right now for season two and First Class Delites will be featured in November. Makan advises you check out "Restaurant Makeover" at www.foodtv.ca to find out when First Class Delites will be on. The show has had one season.
You'll have to go down to First Class Delites to see the new and improved restaurant. Also, check out Sydney's Island Restaurant at 5120 Dixie Rd. in Mississauga that opened recently.
In terms of the recent response to the renovations made at First Class Delites:
"So far we're getting a great response," Ruthland says. "We're getting a lot of new faces. We haven't changed the menu, but we've added some new things on the busier days. Our fish cakes are popular every day."
The Ruthlands have four children, the twins are seven months old and Sydney is doing much better when doctors had thought she wouldn't make it home.